Upcoming weekend, the Grand Prix of Belgium will take place at the legendary circuit of Spa-Francorchamps. Bas Koeten Racing will take part in the Porsche Mobil 1 Supercup with two cars, support race of Formula 1. Two young talents, Loek Hartog and Maxime Oosten, are going to man the 485 HP-strong Porsche 991 GT3 Cup cars. The team and drivers managed to get hold of two highly coveted wild cards for this race. 
Behind the steering wheels are Loek Hartog (17 years old, photo 1), who got a taste of world class event last year. He is accompanied by Maxime Oosten (16 years old, photo 2) who debuts as youngets Dutchman ever to participate in this championship. The event starts with a free practice on friday followed by the qualifying on saturday, and the race will take place on sunday afternoon, just before the Formula 1 cars will start their engines.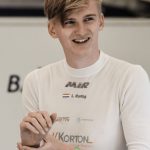 'Very promising'
Bas Koeten: 'Last year we made our debut with Loek in the Porsche Supercup, this year we double the bet. Past weekend we trained with both drivers on the Circuit of Zolder and results were promising. It will not be easy, competing with highly experienced drivers in the fast GT cars. But we, drivers ánd team, are extremely eager to perform! Cup racing, fighting with other competitors with the same weapons, is the best there is. In terms of cup racing, Porsche Mobil 1 Supercup is the highest achievable in international motorsports. A privilige for us to compete in!'
Youngest Dutchman ever
With 16 years and 40 weeks, Maxime Oosten is the youngest Dutchmen ever in the race. An remarkable achievement, considering Maxime rode his first meters on a circuit when he was fourteen years old. Nevertheless: it looks like he has got a feeling for motorsports. With only one season's competition experience, he already managed to win several races such as Mazda MX5 Cup (Jr.) and the Supercar Challenge. On the go-kart track he belonged to the top drivers as well. Maxime: 'I am excited to participate! This is an amazing event and I know the competition will be intens with all the pro-drivers. I expect I need to fight for what I am worth, but that is motorsports!'
All Supercup races in 2021?
Loek Hartog is only a year older than Maxime. With three years old, he already drove a go-kart. Exactly ten years later, he got his racing lisence. Thanks to his previous karting experiences, he managed to get off a flying start in car racing and is often seen on one of the steps of the podium. Participating in the Porsche Mobil 1 Supercup last year, also at Spa-Francorchamps, made him wanting more. Loek: 'My goal is to drive all Supercup races in 2021, and compete in the top 5. I am preparing myself for that. I look forward to the predicted rain in the ever so changing Belgium Ardennes.'
Follow the race live through several media, or follow Bas Koeten Racing on Facebook.